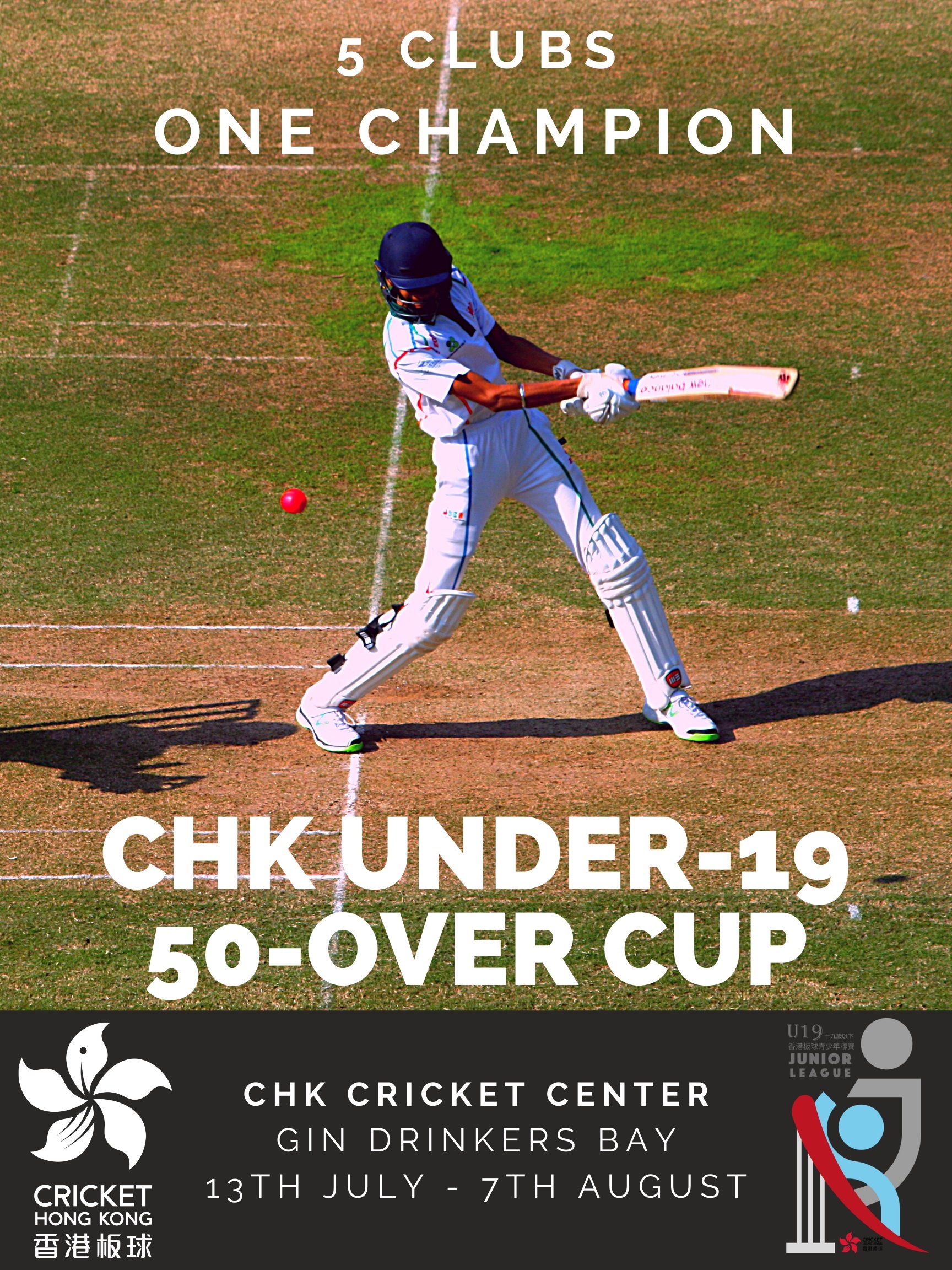 Cricket Hong Kong are delighted to announce the start of a Under-19 50-Over Cup from Monday 13th July!
Featuring teams from the five Premier League clubs (The Hong Kong Cricket Club, The Kowloon Cricket Club, Diasqua Little Sai Wan CC, Pakistan Association Cricket Club and United Services Recreation Club), this competition will pit the best Under-19 players in the territory against each other, in a total of 11 50-over games over the span of 4 weeks. After a single round-robin stage, the top two teams will face off in a final on August 7th.
All games will be played on weekdays at the CHK Cricket Centre in Gin Drinker Bay, and will be live scored on CricHQ. Games will run from 9 AM to 5 PM, with a 1 hour long lunch break, and 3 drinks breaks in each innings, to account for the hot weather. An extra hour of play is available at the end of the game in case of rain interruptions.
"The U19 50-Over Cup will be a great addition to the CHK calendar." says Mark Farmer, the CHK High Performance Manager. "With the season being significantly impacted by COVID-19, the opportunity to play some cricket will be invaluable for all those involved. The timing couldn't be better, providing valuable match time and an opportunity for players to put together performances for selection in the Hong Kong Under 19 Squad."
Jawaid Iqbal, The CHK Elite Development & Performance Coach, had this to say. "U19 50-Over Cup will give us a great opportunity to see Hong Kong's best Under 19 club cricketers in action. We will be following player performances closely as we look to finalise the Under 19 squad to prepare for the ICC U19 Cricket World Cup Qualifiers to be held in December."
The CHK Under-19 50-Over Cup will be the first official CHK league taking place since government restrictions were introduced due to the pandemic, and it comes less than 3 weeks after the first CHK organised cricket match, which was a trial game between two teams of U19 prospects.
Spectators are not allowed at the ground, and each club will only be allowed to bring a limited number of non-playing members to the venue, inclusive of coaches, scorers & substitute players, in order to keep in line with latest government restrictions. Temperatures will be checked at the entrance to the ground, sanitizers will be available for use for all players and team sitting areas will be spaced out. ICC guidelines with regard to use of saliva on the ball and physical contact between players will be adhered to.
Fixtures:
Monday 13th July – HKCC vs KCC
Tuesday 14th July – DLSW vs PACC
Friday 17th July – KCC vs USRC
Monday 20th July – KCC vs DLSW
Tuesday 21st July – USRC vs HKCC
Friday 24th July – HKCC vs PACC
Monday 27th July – PACC vs KCC
Tuesday 28th July – DLSW vs HKCC
Friday 31st July – USRC vs DLSW
Tuesday 4th August – PACC vs USRC
Friday 7th August – Final
Update 14th July: Due to government restrictions on social gatherings to prevent the spread of Covid-19, this tournament was scrapped after the first game.